Unveiling Sasbadi's Latest 2023 UPSA/UASA and SPM Test Papers on i-LEARN Ace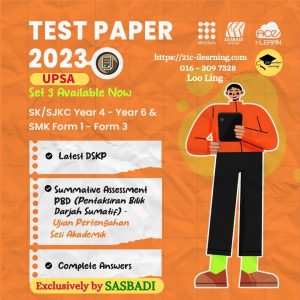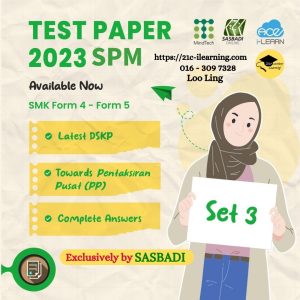 Std 4 – Form 5 Teachers, Educators Parents and Students,
In the ever-evolving landscape of education, staying up-to-date with the latest assessments is crucial for success. With a legacy spanning 38 years, Sasbadi, a reputable publisher and Education Solutions Provider, has consistently met the dynamic educational demands of the times. 
Stepping up to the new challenges, Sasbadi has now released 2023 UPSA/UASA and SPM Test Papers on the revolutionary i-LEARN Ace learning platform
Sasbadi: A 38-Year Legacy of Excellence
With a robust legacy spanning 38 years, Sasbadi stands as a beacon of excellence in the education sector, dedicatedly serving millions of learners and educators.
Sasbadi, a brand deeply trusted for nearly four decades and recognized by the Ministry of Education as a premier textbook publisher, has garnered the trust of two generations. Their achievement is further accentuated by the remarkable sale of over 200 million books during this period.
Committed to excellence, Sasbadi consistently provides quality books
and educational materials. Their offerings, renowned for their quality and relevance, underline their unwavering commitment to educational excellence. 
Sasbadi is proud to have significantly impacted the academic journeys of countless individuals, actively shaping the future of education and learning.
Decoding the Exams: Understanding UPSA and UASA
The Ujian Pertengahan Sekolah Akademi (UPSA) [Mid-Year Exam] and Ujian Akhir Sekolah Akademi (UASA) [Final Year Exam] are significant assessments designed to evaluate students' grasp and application of the curriculum. 
These exams play a pivotal role in understanding the academic progress of the students and identifying areas for further enhancement.
The UASA is a new exam format released by the MOE in December 2022. It aims to provide a more comprehensive performance assessment of students at the end of each academic year. 
The introduction of UASA, following the abolition of both UPSR and PT3 exams, signifies the Ministry's robust initiative to reinforce School-Based Assessment (Pentaksiran Berasaskan Sekolah, PBS).
i-LEARN Ace: Pioneering the 21st Century Learning Era
i-LEARN Ace, a revolutionary m-Learning platform by Sasbadi, consolidates all necessary educational resources into a single, convenient platform. Just like a mini-library, it provides students and teachers anytime, anywhere access to the materials they need.
Designed specifically for Standard 4 to Form 5 students 👩🏻‍🎓👨🏻‍🎓 and teachers 👩🏻‍🏫👨🏻‍🏫, this platform is a reservoir of the latest curriculum content based on the KSSR Semakan and KSSM syllabus, consistently updated to align with the MOE's most recent format.
Let's delve into the standout features that make i-LEARN Ace an educational powerhouse:
Colourful Summarised Notes 📚 – Embedded with images and charts for easier comprehension and better retention. 
Mind Maps – Enhance recall of crucial points.
Objective Practices – Automated marking provides instant answers, saving time and encouraging students with virtual coins as motivational rewards. 
Subjective, Essays, and PBD Practices – Endorse the 'practice makes perfect' mantra, with language subjects that include audio practices to improve students' listening and speaking skills. 
Over 300,000 Practice Exercises – Offer ample revision opportunities
Oral Test Practices (SPM Package) – Prepare SPM students for the SPM Ujian Lisan. 
Test Papers: PBD Sumatif UPSA / UASA, SPM Trial Papers & Model Papers – Familiarize students with the exam formats, ensuring they're well-prepared. 
Videos (SPM package) – Cover selected topics in Math, Biology, Physics, and Chemistry, perfect for reinforcing difficult concepts. 
Progress Analysis Report 📊 – Provide valuable insights into a student's strengths and areas needing improvement. 
Dictionary – A handy tool for expanding vocabulary and enhancing language skills. 
Educational Games and Rewards – Make learning an enjoyable and interactive process. 
Offline Apps – Enable students to study notes and undertake objective practices even without internet connectivity. 
Accessibility Across Multiple Devices – Whether it's mobiles, tablets, or computers, learning becomes flexible and convenient, truly exemplifying a Mobile (M)-Learning platform. 
Benefits of doing Test Papers: UPSA, UASA, and SPM
Test papers are updated every 2-3 months as per the latest MOE formats, these test papers form the crux of the i-LEARN Ace experience. The benefits include:
✅ Familiarization with the exam format, which instills confidence
✅ Identification and rectification of weak areas, fostering continual improvement 
✅ Improved time management, thanks to the platform's in-built timer 
✅ Flexibility to learn at one's own pace 
✅ Regularly updated content, reflecting the most recent MOE guidelines
Testimonials and Success Stories
Over the years, i-LEARN Ace has transformed the learning experience of numerous students and teachers, becoming a cherished part of their educational journey.
Don't just take our word for it; explore these testimonial videos on how our SPM students scored more than 9 As using i-LEARN Ace!
Quality Education at Your Fingertips
i-LEARN Ace is committed to making quality education accessible to all. With a subscription cost of just RM385 for 365 days, students gain unlimited access to resources across all subjects, translating to just RM1.05 per day—a small investment towards a brighter academic future!
So why wait?  Click here to subscribe or start your 7-day FREE trial with i-LEARN Ace. 
Embrace the future of learning!