Bright Start English Starter
The Bright Start English Starter Package specially designed to give young learner a solid start in learning English. It is designed to allow pupils to learn, develop and consolidate their English language skills. These books are bursting with bright ideas to inspire pupils to think creatively and critically.
Contents:
·      Includes a Course Book and an Activity Book.
·      The books have colorful illustrations to make learning fun.
·      There is Wide range of activities and features to enhance Higher Order Thinking Skills (HOTS), thinking maps and Content and Language Integrated Learning (CLIL).
·      The books also comes with a complementary mobile application called Bright Start English Starter. The multimedia contents help to improve the quality of learning and make learning more fun.
 The Coursebook
 The Coursebook covers
·      Listening and Speaking module
·      Reading module
·      Language Arts module.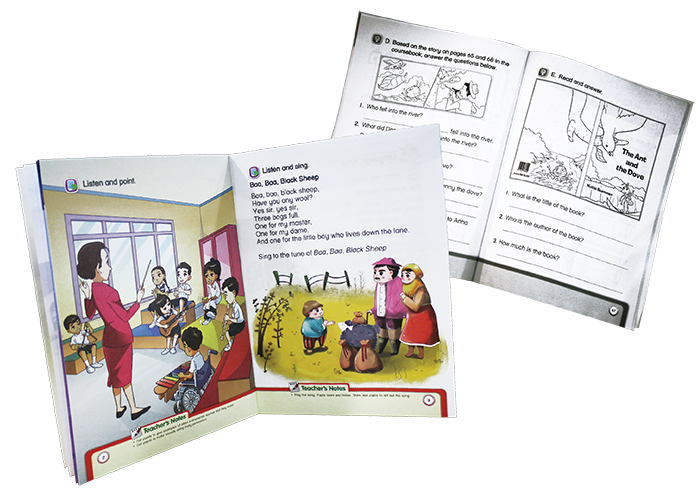 The Activity Book
The Activity Book is closely linked to the Coursebook.
The activities are designed to reinforce the lessons learned in the Course Book. They mainly cover the following:
· Writing module – aims to develop pupils' writing skills and equip pupils with the necessary skills such as using appropriate language, style and form to write different types of texts.
· Listening and Speaking skills
· Reading and Language Arts are also included throughout the book.
MOBILE APPLICATION – Bright Start English Starter
This complimentary mobile application provides a variety of exciting multimedia contents throughout the Course Book and Activity Book, revolutionizing the learning process making it more effective and enjoyable.
The technology used in the mobile application includes
·      3D images
·      Animation
·      Augmented Reality (AR)
Scan the QR code on the cover and download the Bright Start English Starter mobile application from Google Play and Apple App Store for free.