You only have to know one thing!
i-LEARN Ace is a fully integrated multi-featured online platform created to provide a learning experience that is customizable, interactive, engaging and mobile for students, teachers, and parents.
It is 100% based on the syllabus required by the Ministry of Education (MOE) Malaysia (UPSR, PT3, SPM), for students from Years 4 to Form 5. The contents are updated frequently according to the KSSR / KBSM syllabuses.
i-LEARN Ace was developed by Sasbadi Online Sdn. Bhd., and marketed by MindTech Education Sdn. Bhd. Both companies 100% belong to Sasbadi Holdings Berhad, a well-known educational publisher since 1985.
Why i-Learn Ace is the top choice for online learning in Malaysia?

Easy and user friendly!
Flexibility – Online and Offline mode. Students can study notes with and without Internet, anytime, anywhere, using tablets, smart phones or laptop.
Study in more interactive and attractive way, creating more interest to study.
Save time in study! Student can easily search for the topics or notes of their interest.
The platform was developed by Sasbadi, an experienced education publisher with more than 30 years experience, and expert in the Malaysian education content and in the digital platform development.
100% based on the latest KSSR / KBSM formats
The contents are frequently updated according to the KSSR / KBSM syllabuses.
Wide range of subjects available for students to prepare for UPSR, PT3 and SPM exams
Includes model Test Papers for UPSR, PT3 and SPM
Includes i-Think, HOTS and PBS concepts
Students can easily create Mind map (i-Think)
Students, teachers and parents are connected on 1 platform
Parent and Teacher can identify student's strength and weakness in each subject.
There is Rewards system to motivates students to learn and practice, making learning more Fun!
There are online simulation games, help to develop student's creativity.
Save money without having to buy reference books and exercise books.
Affordable price – RM0.99 per day for 12 months subscription, minimum 4 subjects. Price : RM363 for 365 days.
RM0.99 per day

RM363 per 365 days
The way we learn is changing!

Nowadays students easily get bored, and they have a shorter attention span with the traditional learning.
With the new technology and everything going digital, digital world is part of their life! We cannot deny our student this learning method via digital technology. We need to change and educate them using their method!
i-LEARN ACE is the dynamic learning tools that will help Malaysian students to develop the essential  skills to prepare and be successful in the 21st century society!
i-LEARN ACE do education differently! We make learning easier and more fun.
We want students to "Study smart, don't just study hard".
Let's empower the student with the expertise to use technology in effective and innovative ways.
i-Learn Ace - The Future of Education!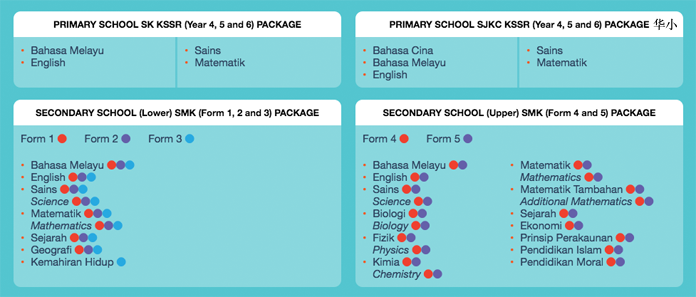 1) Student Account
2) Parents Account (it's free for parents when subscribed to Student Account)
Parents will receive the results of each set of objective practices completed by the children through their Parents Account and their emails.

Parents can monitor their children performance and progress.

The system will help parents to send assignments to their children once a month.
3) Teacher Account
Teacher can use contents in i-LEARN Ace to teach traditionally or give tuition virtually.

Teacher can create and provide extra notes (personal notes, image, video clips, audio and animations), assign mind maps assignments, objective practices and subject practices to their students.

The system will evaluate the objective practices and the reports will be sent to teachers.

They system will also generate reports in Teacher account to enable teachers to know their students' performance and progress.

Tuition centre, Tuition teacher, home tutor have also started using i-Learn Ace to teach their students